The Old Town Farmers Market-Tianguis Cultural started its 5th season with a bang! Over 2,000 national and international visitors came out to help us celebrate opening day in our new location, the beautiful town square of Lazaro Cárdenas Park. A momentous ribbon-cutting ceremony kicked off the season's festivities with vendors, volunteers, market goers and city officials celebrating the return of this highly anticipated weekend attraction.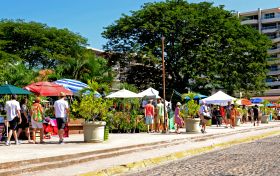 Market Founder, Charlotte Semple, delivered a hearty welcome before the Director of Tourism, Carlos Gerard, addressed the crowd: "The City of Puerto Vallarta congratulates the Old Town Farmers Market-Tianguis Cultural on their fifth season. The market attracts more than 100,000 visitors each year, making a significant economic impact to the Emiliano Zapata neighborhood and the entire Bay area."
And to cut the ribbon was the market's first Young Entrepreneur vendor, 11-year-old Mireya Amaral. She was all smiles as onlookers cheered. Amaral represents a brand new concept for the OTFM-TC. Two years in the making, the Young Entrepreneur Program will feature aspiring entrepreneurs between 10 and 16 years of age who share our passion to produce their own product. Amaral designs and sews her own clothing line for girls and their dolls. Be sure to visit her throughout our November-May season.
After a rousing round of applause, the shopping fun began. Visitors made their way through the booths filled with everything from just-picked produce and elegantly decorated pastries to chic hobo bags and cheerful greeting cards. It was a perfect day for scooping up "make it, bake it, grow it" treasures.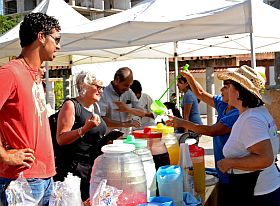 The on-site community groups and services were busy, too. Calendars supporting Puerto Vallarta's bomberos (fire fighters) sold like "hot cakes." Book lovers gravitated to the Biblioteca Los Mangos (the local library) booth, and animal lovers generously contributed to the SPCA-PV's year-round fund-raising efforts. Those with achy muscles jumped at the chance to have a healing massage while those who crave the powerful health benefits of bottled herb oils stocked up on a season's supply.
Of course, the food area was rocking as legendary Chris Kenny serenaded market goers. Beneath the tables, toes were tapping. Above the tables, plates were abundant with traditional Mexican and Thai favorites as well as El Torito's savory BBQ ribs. We'd be remiss if we didn't mention the ice cold aguas frescas or "fresh waters." They were a huge hit with those who longed for thirst-quenching refreshment on a warm day in the tropics.
And then, there were the flavorful offerings of take-home foods. With freshly baked breads, Mexican cheese, meat pies, artisan chocolate, Greek yogurt, organic coffee, homemade quiche, traditional tamales and appetizing spreads, nut butters, dressings and salsas, our Market became a foodie's delight.
It seemed as if the whole community came out to support the OTFM-TC's fifth season. And this weekend, we'll do it all over again!
If our opening day turn out is any indication of the rest of our fifth season in Emiliano Zapata neighborhood, you're in for quite a Saturday shopping adventure! Join us this weekend at Lazaro Cárdenas Park for our fresh take on "buy local" goodness. And if you'd like to become a part of the team as a vendor, volunteer or chef demonstrator, we'll have applications on hand at the information booth in Lazaro Cárdenas Park.
BY: Erin Staley